Brazilian Bum Bum Cream and Brazilian Kiss Lip Butter is the ultimate gift for all those who are obsessed with that buttery soft smooth texture of skin. Sol De Janeiro has made sure to create a cream that is irresistibly fragrant and gives your skin that perfect texture that makes you feel confident to flaunt that dewy smooth skin wherever you go! It's made with all the natural ingredients that promise the most satisfying moisturising experience. Beauty is all about feeling confident from within and flaunting it without being conscious.
Brazilian Bum Bum Cream Ingredients:
Brazilian Bum Bum Cream and Brazilian Kiss Lip Butter are your perfect companions for a lusty glowing skin and those perfectly kissable soft lips. It's made of Amazon's most famous ingredients like caffeine-rich Guaraná extract, cupuaçu butter, açaí oil and coconut oil. These magical ingredients are known for their quick absorbent and skin tightening capabilities. To add up to this, the cream smells of pistachio and salted caramel, you just cannot do without getting it all over your body again and again. Because these products are enriched with real natural fats and oils, they are the ideal choice for anyone who loves keeping it natural and nourishing. They are so well balanced in composition; it just gets absorbed within a couple of seconds of applying the cream to your body. You just need to rub it smoothly all over your body and ta-da! You are ready for flaunting that booty on the beach!
Brazilian Bum Bum cream is a full body cream that's enriched with Guaraná extract that's an Amazonian plant known for its caffeine richness; it has double the amount of caffeine that you might get from coffee beans. Caffeine helps you diminish skin conditions such as cellulite, stretch marks, and acne; it also helps in keeping those wrinkles at bay with its anti aging qualities.  All you need to do is take Brazilian Bum Bum cream on your palms and rub it in a circular motion to stimulate blood flow! It will also help you get rid of that bad tan.
Uses of Bum Bum Cream :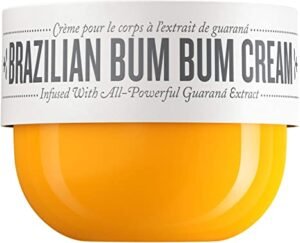 Cupuaçu in Brazilian Bum Bum cream is one of nature's most amazingly powerful and anti oxidants rich moisturizer. It can keep your skin moisturized for more than 8 hours. It also improves the elasticity and firmness in your skin by keeping it hydrated. It's light and gets absorbed quickly in your skin without leaving it greasy, moreover you can even use Brazilian Bum Bum cream as your intensive night moisturiser for a younger looking skin!
açaí oil in this wonderful Brazilian Bum Bum cream is full of anti oxidants and anti aging, anti inflammatory qualities, making it an ideal choice for those who love nourishing their skin with rich natural extracts! It can even help you repair the UV damage with its soothing qualities.
One more magical component in Brazilian Bum Bum cream is coconut oil which we all know is widely known for its multiple skin benefits. It not only provides a soft and smooth skin, it also helps you fight those dark circles, stretch marks and the pigmentation. All these and the amazingly delicious fragrance of salted caramel and pistachio is just perfect companion for all your moods!
All these ingredients – Cupuaçu, Acai oil and Coconut oil combined together make a perfect nourishing lip balm for those sensuous lips. If you are the one who is constantly in need of a lip balm to keep those lickable lips soft and moisturized, Brazilian Kiss Lip Butter is the right choice. Its dewy translucent butter will redefine that natural colour of your lips. For those sensuous, intense lips – go kiss ready with Brazilian Kiss Lip Butter! We bet you just can't get enough of these two body butters by Sol De Janeiro! Be it your body curves or the precious curve on your face – your smile! Go celebrate your curves with Brazilian Bum Bum Cream and Brazilian Kiss Lip Butter.